Welcome to Provincial Executive Committee of Muslim Supreme Council of South Africa ( MUSCOOSA) for Western Cape province comprised of Provincial Mufti, Regional Representatives who are leaders of Municipalities and Districts that makes up Western Cape Province Called Municipal Qadhi or District Qadhi, and Town representatives.
Each town of a Municipality or District has a leader in Charge of Islam and Muslim affairs who is responsible for Council of Imams and Muadhins of that Municipality or District called Town Representatives who reports to Regional representatives called Municipal Qadhi and District Qadhi, who reports to Provincial Mufti.
The office of Provincial Mufti monitors operations of Regional Representatives called Municiplal Qadhi, District Qadhi and Town Representatives with following Structure:
Regional Representatives are Heads of Islam Affairs in Municipalities and districts called Municipal Qadhi and Disrict Qadhi. There are representatives in every town that makes a Municipality or District those who report to Municipal Qadhi or District Qadhi.
Municipal Qadhis and District Qadhis are Deputies of Provincial Muftis, they make part of Provincial Executive Committee headed by Mufti of the Province.
Provincial Muftis, Municipal Qadhi and District Qadhi all form part of Council of Sheikhs ( Majlisil Ulama).
Municipal Qadhi and District Qadhi coordinate with Mayors office , all town representatives reports back to him. the management has a team of members comprised of:
Provincial Mufti
Regional Representatives called Municipal Qadhi and And District Qadhi
Secretary
Head of Imams and Muadhins in Municipality and District
Town Representatives in charge of Council of Imams and Muadhins
Map Showing Municipalities and distiricts of Western Cape Province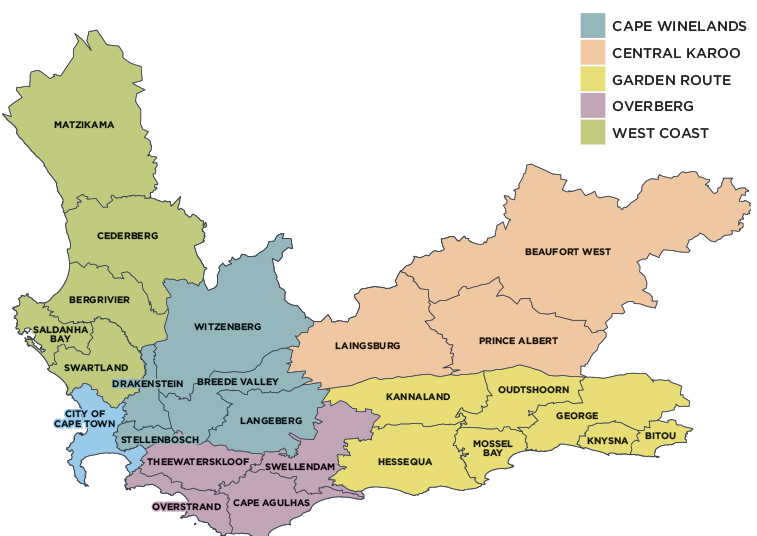 Overview
The Western Cape is located on the southern tip of the African continent between the Indian and Atlantic Oceans. It is bordered by the Northern Cape and Eastern Cape provinces. The Western Cape's natural beauty makes the province one of the world's greatest tourist attractions. The region is topographically and climatically diverse. It has a temperate southern coastline fringed with mountains. To the north it stretches deep into the Karoo plateau, while the west coast is extremely dry.
It covers an area of 129 462km² and has a population of 6 279 730. It is the fourth-largest province in South Africa by surface area and also ranks fourth in population. The capital is Cape Town. Other major cities and towns include George, Knysna, Paarl, Swellendam, Oudtshoorn, Stellenbosch, Worcester, Mossel Bay and Strand.
The Western Cape is rich in agriculture and fisheries. The climate of the peninsula and the mountainous region beyond it is ideal for grape cultivation, with a number of vineyards producing excellent wines. Other fruit and vegetables are also grown here, and wheat is an important crop to the north and east of Cape Town. Fishing is the most important industry along the west coast and sheep farming is the mainstay of the Karoo. The province has a well-established industrial and business base, and the lowest unemployment rate in the country. Sectors such as finance, real estate, ICT, retail and tourism have shown substantial growth, and are the main contributors to the regional economy. Many of South Africa's major insurance companies and banks are based in the Western Cape. The majority of the country's petroleum companies and the largest segment of the printing and publishing industry are located in Cape Town.
The Western Cape is divided into one metropolitan municipality (City of Cape Town Metropolitan Municipality) and five district municipalities, which are further subdivided into 24 local municipalities.