Welcome to Provincial Executive Committee of Muslim Supreme Council of South Africa ( MUSCOOSA) for Northern Cape province comprised of Provincial Mufti, Regional Representatives who are leaders of Municipalities and Districts that makes up Northern Cape Province Called Municipal Qadhi or District Qadhi, and Town representatives.
Each town of a Municipality or District has a leader in Charge of Islam and Muslim affairs who is responsible for Council of Imams and Muadhins of that Municipality or District called Town Representatives who reports to Regional representatives called Municipal Qadhi and District Qadhi, who reports to Provincial Mufti.
The office of Provincial Mufti monitors operations of Regional Representatives called Municiplal Qadhi, District Qadhi and Town Representatives with following Structure:
Regional Representatives are Heads of Islam Affairs in Municipalities and districts called Municipal Qadhi and Disrict Qadhi. There are representatives in every town that makes a Municipality or District those who report to Municipal Qadhi or District Qadhi.
Municipal Qadhis and District Qadhis are Deputies of Provincial Muftis, they make part of Provincial Executive Committee headed by Mufti of the Province.
Provincial Muftis, Municipal Qadhi and District Qadhi all form part of Council of Sheikhs ( Majlisil Ulama).
Municipal Qadhi and District Qadhi coordinate with Mayors office , all town representatives reports back to him. the management has a team of members comprised of:
Provincial Mufti
Regional Representatives called Municipal Qadhi and And District Qadhi
Secretary
Head of Imams and Muadhins in Municipality and District
Town Representatives in charge of Council of Imams and Muadhins
Map Showing Municipalities and distiricts of Northern Cape Province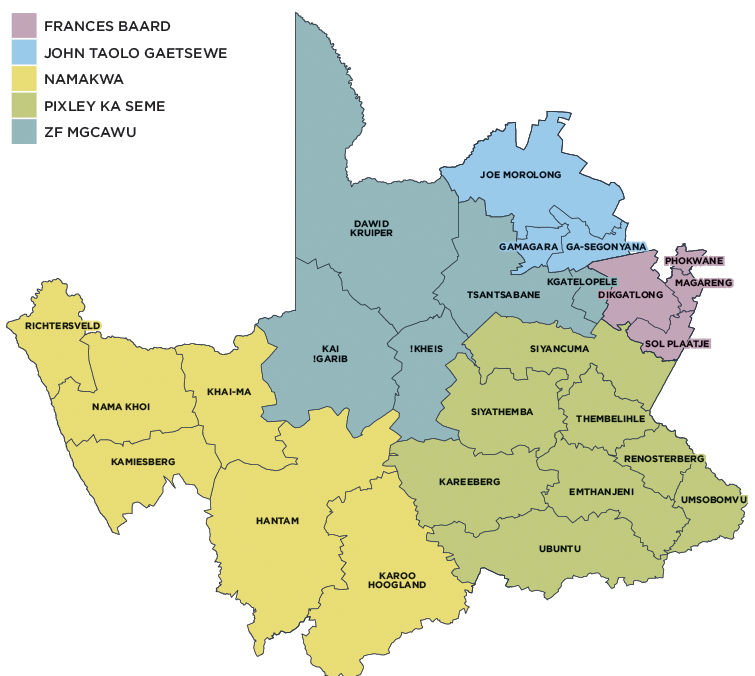 Overview
The vast and arid Northern Cape is the largest province in South Africa, taking up nearly a third of the country's land area. It covers an area of 372 889km² and has a population of 1 193 780, the least populous of South Africa's provinces. It is bordered by Namibia and Botswana to the north, and also by the North West, Free State, Eastern Cape and Western Cape provinces. The cold Atlantic Ocean forms the province's western boundary.
The capital city is Kimberley. Other important towns are Upington, centre of the karakul sheep and dried-fruit industries, and the most northerly winemaking region of South Africa; Springbok, in the heart of the Namaqualand spring-flower country; Kuruman and De Aar, the second most important junction of South Africa's railway network. Sutherland is host to the southern hemisphere's largest astronomical observatory, the multinational sponsored Southern African Large Telescope.
The Northern Cape is rich in minerals. Alluvial diamonds are extracted from the beaches and the sea between Alexander Bay and Port Nolloth. The Sishen Mine near Kathu is the biggest source of iron ore in South Africa, while the copper mine at Okiep is one of the oldest mines in the country. Copper is also mined at Springbok and Aggeneys. The province is rich in asbestos, manganese, fluorspar, semi-precious stones and marble.
The province has fertile agricultural land in the Orange River Valley, especially at Upington, Kakamas and Keimoes, where grapes and fruit are cultivated intensively. The interior Karoo relies on sheep farming, while the karakul-pelt industry is one of the most important in the Gordonia district of Upington. Wheat, fruit, peanuts, maize and cotton are produced at the Vaalharts Irrigation Scheme near Warrenton.
The Northern Cape is divided into five district municipalities and further subdivided into 26 local municipalities.