Welcome to Provincial Executive Committee of Muslim Supreme Council of South Africa ( MUSCOOSA) for Gauteng province comprised of Provincial Mufti, Regional Representatives who are leaders of Municipalities and Districts that makes up Gauteng Province Called Municipal Qadhi or District Qadhi, and Town representatives.
Each town of a Municipality or District has a leader in Charge of Islam and Muslim affairs who is responsible for Council of Imams and Muadhins of that Municipality or District called Town Representatives who reports to Regional representatives called Municipal Qadhi and District Qadhi, who reports to Provincial Mufti.
The office of Provincial Mufti monitors operations of Regional Representatives called Municiplal Qadhi, District Qadhi and Town Representatives with following Structure:
Regional Representatives are Heads of Islam Affairs in Municipalities and districts called Municipal Qadhi and Disrict Qadhi. There are representatives in every town that makes a Municipality or District those who report to Municipal Qadhi or District Qadhi.
Municipal Qadhis and District Qadhis are Deputies of Provincial Muftis, they make part of Provincial Executive Committee headed by Mufti of the Province.
Provincial Muftis, Municipal Qadhi and District Qadhi all form part of Council of Sheikhs ( Majlisil Ulama).
Municipal Qadhi and District Qadhi coordinate with Mayors office , all town representatives reports back to him. the management has a team of members comprised of:
Provincial Mufti
Regional Representatives called Municipal Qadhi and And District Qadhi
Secretary
Head of Imams and Muadhins in Municipality and District
Town Representatives in charge of Council of Imams and Muadhins
Map Showing Municipalities and districts of Mpumalanga Province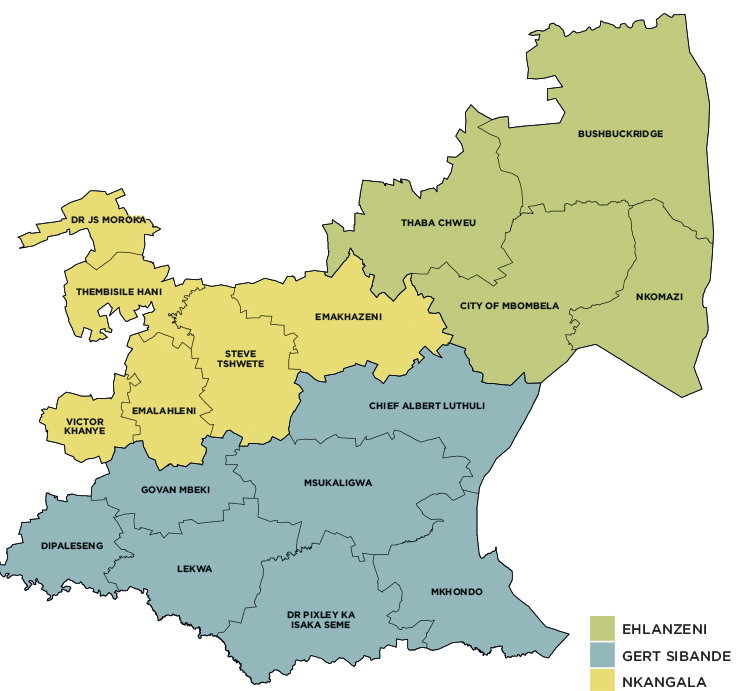 Overview
Mpumalanga, the second-smallest province in South Africa after Gauteng, is located in the north-eastern part of the country, bordering Swaziland and Mozambique to the east. It also borders Limpopo, Gauteng, Free State and KwaZulu-Natal within South Africa. It covers an area of 76 495km² and has a population of 4 335 964, making it the sixth most populous in the country. It is situated mainly on the high plateau grasslands of the Middleveld, which roll eastwards for hundreds of kilometres. In the north-east, it rises towards mountain peaks and terminates in an immense escarpment. In some places, this escarpment plunges hundreds of metres down to the low-lying area known as the Lowveld.
Mbombela (previously Nelspruit) is the capital of the province and the administrative and business centre of the Lowveld. Other major cities and towns include eMalahleni (previously Witbank), Standerton, eMkhondo (previously Piet Retief), Malalane, Ermelo, Barberton and Sabie.
The best-performing sectors in the province include mining, manufacturing and services. Tourism and agro-processing are potential growth sectors. Agriculture in Mpumalanga is characterised by a combination of commercialised farming, subsistence and livestock farming, and emerging crop farming. Crops such as subtropical fruits, nuts, citrus, cotton, tobacco, wheat, vegetables, potatoes, sunflowers and maize are produced in the region.
Mpumalanga is rich in coal reserves and home to South Africa's major coal-fired power stations. eMalahleni is the biggest coal producer in Africa and is also the site of the country's second oil-from-coal plant after Sasolburg. Most of the manufacturing production in Mpumalanga occurs in the southern Highveld region. In the Lowveld sub-region, industries are concentrated around the manufacturing of products from agricultural and raw forestry material.
Mpumalanga is divided into three district municipalities, which are further subdivided into 17 local municipalities.